Short & Chic Hairstyles
Short & Chic Hairstyles at Steven Scarr Hairdressing Salon in Coxhoe, Durham
Are you thinking about changing the style of your hair to a short & chic look? Are you feeling nervous about having a dramatic change? If this sounds familiar then book a complimentary hair consultation at Steven Scarr hairdressing, Durham.
The stylists in our Durham hairdressers are specialists and their number one priority is finding the best short hair style to suit you and your lifestyle. Just give us a call on 0191 377 1830, or book your appointment online.
the best short hair cuts near you
Coxhoe
Durham
Darlington
Stockton
Short Pixie Cuts
If you want a classic, timeless short hairstyle that will never go out of style, then the pixie haircut is for you. This hairstyle is fun and super versatile.
Rock a stylish evening wear look with your hair slicked back, or opt for a relaxed, laid-back look using a texturising product to create a bedhead-inspired style.
Short Layered Hairstyles
Adding layers to a short hair cut is a great way in which to create movement and texture and can make hair look thicker and fuller.
For those of you with thicker hair, we will need to remove some of the weight from your hair to give it that fabulous flow and shape.
Bobs for Short Hair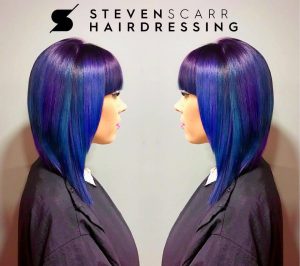 The classic bob hair cut remains a top trending short hairstyle and it's clear to see why.
From long to mid-length to short bobs, angled bobs, jaw length bobs, wavy bobs, blunt bobs, and even bobs with fringes, there are so many options to choose from!
Top Hairdressing Salon in Durham
Steven Scarr hair salon in Coxhoe, has a reputation for creating fantastic hair cuts, styles and sensational hair colour. Always up to date with the latest techniques and trends, our talented team really know their stuff.
Read our best salon reviews here and see why our clients tell us we are their favourite Durham hairdressers.