Keep up-to-date with the latest news, info & trends directly from Steven Scarr Hairdressing Salon in Darlington!
What Can I Do With My Hair During Self-Isolation?
Wondering how to cope with your hair during lock down? Read our top tips...
Stay Looking & Feeling Good During Lockdown!
Stay Looking & Feeling Good During Lockdown!
Why We're The Best Hair Colour Salon
Whether you want to reinvent your current hair colour or are looking to experiment with a new look - we can help!
Get a Hair Make Over For 2020
Transform Your Hair With A Re-Style At Steven Scarr Hairdressing Salon in Coxhoe, Durham
Get the Look! Hair Trends for 2020
Looking to the catwalks and what's happening with High Street fashion, the experts at Steven Scarr are excited to bring you our top 2020 hair trend predictions.
Top hairstyles for Men in 2020
Here, we've rounded up the best hairstyles for Men to ensure you'll be turning heads in 2020 for all the right reasons!
A Beginners Guide To Blonde Hair
If you want to change the colour of your hair or fancy trying out a new blonde shade, let the hair experts at Steven Scarr hair salon in Coxhoe, Durham explain all!
Get Thicker, Fuller Hair With Extensions
Want Thicker, More Voluminous Hair? Visit Steven Scarr - The Hair Extension Expert Salon in Durham!
Top Trending Hair Cuts & Styles for Men
Gents' Hair Cuts & Styles at Steven Scarr Hair Salon, Durham Achieving the perfect men's hair cut and style takes experience, knowledge and confidence so it is always a job best left to the expert stylists at Steven Scarr hairdressing salon, Coxhoe...
Get The Look: Red Hair Colours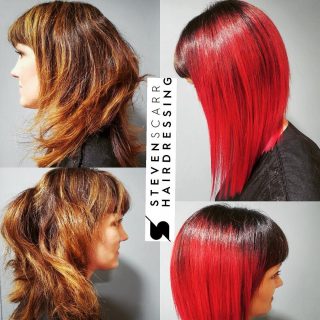 Red hair colour makes a statement and chances are if you are a red head you want to have fun with your look. Check out our top picks for the latest shades...