Breathe New Life Into Your Brunette Hair Colour
From light brown to dark brown, or chocolate to hazelnut - we have a perfect brown hair colour to suit your brunette needs at our Durham hair salon.
What Are The Latest Hairdressing Trends
Change your hair colour to blonde and start the summer with a brand-new look at Steven Scarr Hairdressing, Durham.
The Hottest Summer Hair Colours!
Get the lowdown on which 2018 hair colour trends will be dominating the summer months.
Check out the top 5 hairstyles for summer!
Pastel Hair Colours at Steven Scarr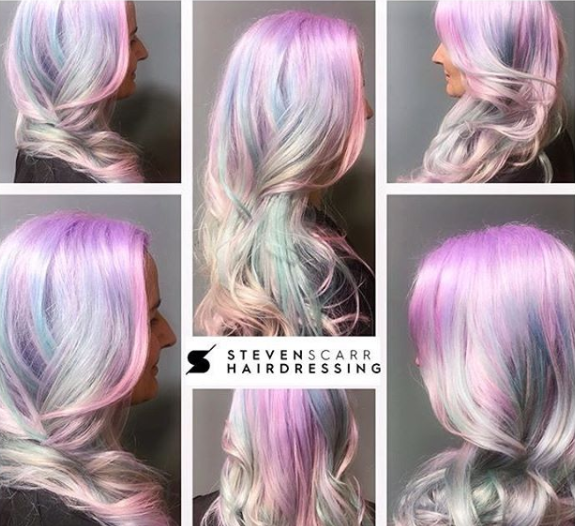 The Pastel Hair Colour Trend at Steven Scarr Hair Salon in Coxhoe, Durham Is your hair feeling drab? Want to transform your look with an exciting new hair colour? Why don't you try the new trend for adding pastel colours to your hair? Come and visit our Coxhoe hair salon for a consultation and find out which pastel tone will suit you best...
What is Balayage and can I get the look?
Balayage all you need to know! Find out more about the ultimate hair colour trend...

Gents are you stuck in a rut with your current hairstyle? Our clients say we deliver the best hair cuts for men in Durham!
Forget the flashbacks of your mum cutting your fringe with the kitchen scissors into a strange diagonal line and move forward and embrace this growing trend for having a fringe added to your hairstyle.
NEW Creative Color Fresh CREATE Hair Colours
12 new and exciting colours to try at Steven Scarr!!
Thinking of taking the plunge with a short crop?
There are many hairstyles you can try out with short hair, from a straight a-symetrical bob, haircuts that are chin length, to a super short buzz cut - let us find the one for you!
What Makes Your Hair Grow?
Ever wondered what makes your hair grow? Read on to find out...
How to Quickly Repair Split Ends
Hassle free tips on how to pevent split ends from the hairstyling experts at Steven Scarr.
Look stylish on the beach this summer with our easy to do holiday hairstyles.
Introducing Alfaparf Smoothing Hair Treatments at Steven Scarr
Fed up battling with dry, frizzy hair? Keep frizz at bay and change your hard to handle hair into silky, super smooth manageable locks with an Alfaparf Milano hair smoothing treatment.
Solve your summer hair problems and protect your locks from chlorine damage, hair colour fade plus learn how to prevent frizzy hair!
Top Festival Hairstyles for 2017
If you have a festival to attend this summer, you'll need a special hairstyle to match your outfit! We can create Bo-ho plaited styles, top knots, and hair styles with volume and beachy waves!
Beautiful Blonde Hair Colours
Do blondes really have more fun? Why not see for yourself by going blonde this summer!
The Gents' Fade Cut Hair Trend
Stuck in a rut with your existing gents' hairstyle? Break the cycle and try the new faded hair cut trend and get yourself a top men's hairstyle that is bang up to date.
Get your dream look for prom - choose from a stunning up do, chic ballerina style bun or beautiful wavy locks.
The Science Behind What Makes Your Hair Grow!
Ever wondered why it doesn't hurt when you have your hair cut? Or how many hairs you have on your head? Take a look to find out more...
BOHO WAVES FOR SPRING/SUMMER 2017
From festival chick to free-spirited hippie, Steven Scarr Hairdressing in Durham take a look at how you can wear your hair this Spring/Summer.